---
            MICHAEL JACKSON 
                                        .
                 UNDERGROUND BLOG
                                         .
                                         .
                                         .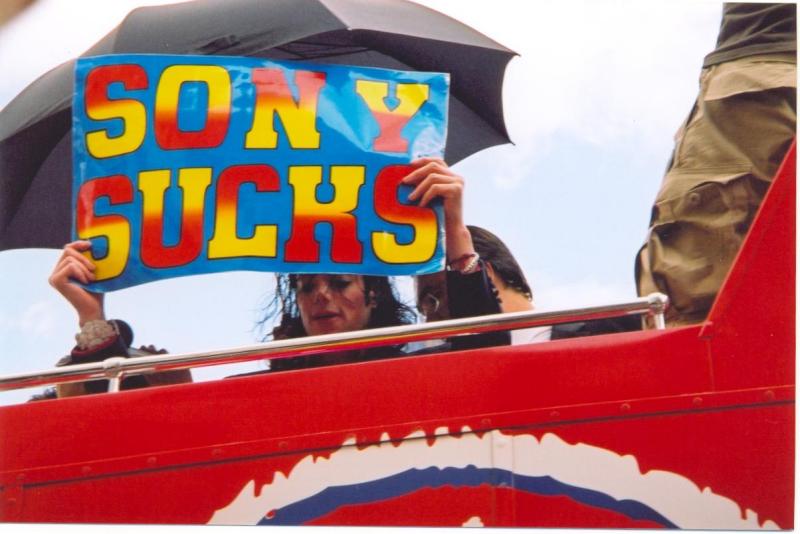 Farce about Michael's death investigation continues. Murray the only defendants. It is necessary to realize a few facts that certainly are not new, but some people still do not fit things into context, or simply do not have the information in the media say are melting.
.
Fact 1 - before the release of Invincible, Michael had to pay money in advance, which should make from album sales.
This financial transaction was for Michael's career dire consequences, but in the music industry for things like that occasionally.
.
Fact 2 - Michael put up collateral in case the debt could not pay had their share of the ATV catalog - it was not a happy decision.
(The value of Michael's 50% stake was over $ 1 billion)
.
fact 3 - ATV catalog value is much higher than the money they could earn from the sale of Sony's Invincible album, it is a sum in excess of $ 2 billion.
.
fact 4 - Sony suddenly the promotion of the album Invincible chose counterproductive advertising campaign, singles from Invincible, were compared with the singles from the previous record of History a poor family, video clips from Invincible are unoriginal and boring compared to previous singles remixes based on no, not in 2 , 3 versions, as ever, but in one single. While the History came out 6 singles in Europe and 5 in the U.S., came from the Invincible, a single in the U.S. and 2 in Europe, this could go on forever ... Michael's career is experiencing a rapid fall.
.
fact 5 - Michael surprising because this change is not able to repay the debt, which the Sony has. Because of this they held meetings in 2002 demonstrations against Sony to announce that Sony wants to leave quickly with half the ATV catalog. That's not so simple, they owed money, Sony stole it. That's right, Sony has prepared sabotováním Invincible Michael about the money from album sales, but the same money needed to make them pay down the debt, the situation is totally absurd, owes them money he had stolen ... So they can not just walk away with half of the ATV catalog, because there years ago, unfortunately, had to pledge in the event that will be able to repay debt. As a starting point was therefore everything they need to pay.
.
fact 6 - the Sony sabotaged Invincible Michael's projects and all isolates from Michael possibility to pay anything.
.
fact 7 - when he decided in 2008 for a series of concerts, counts with 10 concerts. It would not be a Sony no tragedy. Whether Michael's own fault or the fault of the managers, but is that a series of 10 concerts at the same time there is a concert tour in 1950, tickets to all concerts were sold within a few hours and tours This is it breaking records even before its start. In mid 2010, after playing all 50 concerts, Michael had to earn enough to repay all his debts! In addition, his career is going up as fast as it went down once, Michael is planning to release two new singles, there is speculation about a series of other concerts in Asia and other continents in 2010, the 2011th
.
For Sony this means one, Michael got out their hands against each other have opened up a tank that no legal way could not be stopped. Chances are they Michael dances away with half of their music catalog is growing day by day. They stopped him illegally, therefore, planned the murder, which looks like an accident. Debts remain, Michael's family is in financial trouble, being sued for outrageous amounts. ATV catalog remains the company Sony, which is due to him becoming the richest and most powerful mafia world, because the way you keep the catalog is truly worthy of the mafia.
.
.
.
.
October 5 Places of mjjsource. On this page we can read many interesting things. For example, the concert at Planet Jackson Jarmaina Holliwood ended absolute disaster - Quote: "The alleged 7000 seats were sold only about 300 tickets and the organizers gave away almost for free tickets before the concert ... but even that did not fill the audience (though fans also came from Japan, and NYC) concert itself was neither a tribute to Michael, Michael's presentation as Jermainova songs, as well as groups or Jackson5 his own creation. The show started with a delay of one hour, while people were confused by "what happens" ... Although it is Internet reports that the concert really little, I found some, because the message appeared to me as a classic rumor from Sony.
http://www.tmz.com/2010/10/04/jermaine-jackson-michael-jackson-las-vegas-concert-video/ 
On this page you can play yourself a short video of the concert. You yourself can determine whether the action in which 300 people or not. The actual visit was probably originally planned 7000 and slightly exceeded. MJ This action simply has not taken place in collaboration with MJ Estate (Sony), so that there will be an effort on her part Jarmaina damage. In the video, but we clearly see that attendance was very decent and the action certainly succeeded. Jarmaine hard in the past spoke out against Sony. In the "Late Show" last year made it clear that the scandal of the 2005 Sony artificially raised in order to destroy Michael (financially, emotionally and physically) because of the controversy until Michael appeared active against Sony. Jarmaine also said he believes that Michael was murdered because of his ATV catalog, but to the whole thing with not much comment. No need to comment much, every fan knows (unfortunately not the public) who owns the ATV catalog and start it at the time had appetite. And why do so many lies on mjjsource? Simply because this is a typical example of a site page that is on the first regular, high-quality page MJ, but actually defends the interests of all of Sony's teeth and nails, with a love for Michael, this has nothing in common. Once there, but even the "suprová" actions directed against Sony! The event consisted of vzburcování fans against Sony for that on their site identified Michael as a "self-styled King of Pop". What can I say, at that time dealt mainly that if sony bearing a share of Michael's death or not, whether a decade of Michael's career sabotage and staging of hype in 2003, Murray was able to apply as a puppet of Michael's removal polodebilní events such as "self-proclaimed king Pop anyone not interested in comparison with other events between Michael and Sony, this theme totally irrelevant, so it was kind of pathetic attempt to divert attention from the murders of some stupiditě and show that mjjsource at all, but not at defending the interests of Sony. It would be funny even if it was not a collaboration with the Mafia, which Michael has removed not only from the music scene. While the issues michaeljacksonweb.cz Michael vs Sony least cowardly silence in the interest of the existence of Web MJJsource actively defends the interests of Sony - yuck yuck.
October 1 For those who přecejen decide to boycott the new "Michael" album here, including this activity. The text that you send all your contacts in a directory on my Youtube Channel. The text contains a call to fans not to buy this album with regard to the fact that Michael has decided to retire from Sony, and his sudden death meant that the rights of the project This is it Sony's own, not Michael, the proceeds from the new album will not Michael's children, but again to pocket Sony rights to anything with Michael on behalf of his Sony. Moreover, it is not Michael's album, it is likely that what Sony would soon issue a Michael has not ever and certainly not for them. 10 years, Sony made it impossible to publish Michael's board after his death, but the taste nel alive.
The text can be connected, eg this video:
http://www.youtube.com/watch?v=2hTu5o0UZz8 
Boycott Sony
26 September at 21:37 Report
If you support the Boycotting of $ $ they please pass this message Along:
If you dont, then please read before you make your final Decision:
"I am not trying to tell anyone what to do, But at Least Try To educate Ourselves About This CORE issue.Michael These unreleased songs intended for release HIS Children's Them, Not Alive SONY.if Michael WAS HE WOULD HAVE given Sony the distribution HIS rights of the unreleased songs? Why executors have to issue Letting Mrs. Katherine have a seat and have a say in deals? She is NOT asking to Be an Executor
Why is Randy Phillips of AEG Concerned about what estate does with Sony / ATV deal? His artistic legacy is Written In History, and nothing CAN Change That Now. Katherine & the Children 'each receive a large monthly SCHOLARSHIPS, Regardless of how much is made by the Estate
http://www.facebook.com/group.php?gid=137459892959209&ref=ts
Please join group: all information you need to help you with DECIDE Within These Pages:
Any Questions You May Have to Help You Answered DECIDE are here: Links to Other websites too few: Educate Yourself You Owe It To Michael!
Please dont reply to this message and I am not Maintaining my in-box
For Starters here are Some quotes from Michael! I Will attach the sites They are from the So You CAN Read Further:
"What I want people and my fans to know is When You Buy That junk you're putting money in Their Pockets and It Hurts Me" MJ
Now I cannot comment on it, But There's A LOT of conspiracy going on as we speak! "~ MJJ (2005)
"Be Mindful of history. Be conscious of history. Do not get caught up in just the moment.
"It's (the ATV catalog), worth A LOT of money. And There Is a BIG fight, going on about that RIGHT NOW catalog.
"I have been a vulnerable target for Those Who Want Money," "My level of trust Will change. There's a lot of conspiracy going on.'ll Say That Flies. A lot of it. All Around Me" "Do not Leave Me, They Are Trying to Kill Me "" I am afraid of my life and for my children. I am scared with Michael Jackson
"The record companies really to conspire Against the artists. Especially the black artists" ~ Michael Jackson
To understand The Truth About What Really Happened, one must educate oneself. "~ MJ
Do not shout "Justice For Michael" if you're pouring $'s HIS murderers! Boycott Sony & Branco puts EVERYTHING OUT!
"Fans Who Love Truly * MICHAEL * Will Fight for justice and refuse to help those profits from $ HIS death." Fans who "truly love * MICHAEL * Will Fight for justice and refuse to help those profits from $ HIS death. Are you being manipulated for profit
Because what you * want * Matters to You More Than Michael Jackson
There are only excuses that they buy from $ So You Can Get what * you * want.
What is "Love"? Is it giving money to a victim's abuser? Because that's what you're doing. And There are no excuses for it
Like a bunch of vultures circling, feeding off Michael .... LMP Called Them "Vampires"
PLEASE JOIN U.S. ON Twitter PAST THIS COPY WITH EACH TWEETY!
# # Mjfan BOYCOTTSONY
http://wibi.us/aD5kb7 # boycottsony
http://mjfansboycottsony.weebly.com/why-you-should-boycott.html 
A message from a very close friend of Michael Jackson http://www.facebook.com/posted.php?id=10150089810000346&share_id=160729733939458&comments=1 # / notes / michael jackson-death conspiracies / why--Boycott Sony -revised/475727964611.
September 22 Things from YouTube. Recently appeared on youtube friendly materials - preparation for the Dangerous Tour in 1991. The greater part of the preparations have been seen here long, but songs like BOW, HTW Bad or not. The media is constantly hear the information that Michael was in preparation for it This is seriously ill and that the tour had been physically. The strange thing is that this information (which is incidentally in conflict with the autopsy results, stating that Michael was the death of a healthy, capable guy), appear in documents dealing with Michael's death. Michael's death, but with its physical aspect has nothing to do, since, according to autopsy reports, Michael was killed by a low dose of propofol + wrong combination of other drugs. The public does not know much about this, the media and documents on Michael's death, the information is usually stacked so that each particular understand that Michael could not handle physically tour. It is irrelevant whether this assertion is inconsistent with the autopsy report, but it is strange that such a focus on documents and reports all refer to things that are not related to the death of Michael, Michael died as a result of absolute physical exhaustion, dehydration or to anything like that. And how does this relate to the new material on YouTube?
After playing např.videa Black Or White, Dangerous preparations for the tour and videos from Bow classical concert tour Dangerous is good to see the difference. Michael's preparations for the tour launched a singing and dancing - to understand. Video Black or white as they prepare to tour This is it so little suggests that claims Jarmaina Jackson (Michael's preparations for the tour This is it went to 10%) could be something true. It can only speculate what might have been the difference in Michael's performance at the concert "live" in relation to preparation for This is it. At the time of the tour, Michael was in good health and on the net is another material which it refers. Videos TDCA in preparation for This Is It and Billie Jean from the completed world tour that about a year ago compared with CT in the context of Michael's physical aspect, are not comparable.
1, Blck or white - Preparations for a Dangerous Tour
http://www.youtube.com/watch?v=v4SjvbxTVko 
2, Black or White - Dangerous tour
http://www.youtube.com/watch?v=VEKceptG0Vg 
3, black or white - to prepare for the tour This is it
http://www.youtube.com/watch?v=_Aasx2fIrFM&feature=related 
4, Black or White - Tour This Is It
?????????????????????????????????
Official information to the media and authors of various documents supplied by MJ mainly Sony, but also other U.S. velkomafie type AEG. It almost seems as if some kind of "psychological bulvarysticko-coup" - attempts to avert one "fact" attention from the other. When someone gets the job done, so much so quickly, he repeated the word "white", and then a quick answer to the question "What do cows drink?" Often confuses. But the fact remains that Michael's time of preparation for the tour, This is it might not have been in poor health and his health has nothing to do with his death. The public but I can hear, and so the information gets distorted, and therefore the idea of Michael's health. We also mention a really largely irrelevant to the matter in connection with the death of Michael, surprisingly, even to the MF2. Michael wanted to play 50 concerts, he was forced to do. What this relates to his death?? It does not depend, as Michael from the 50 concerts not played even one, so never know if he was capable of and I do not know anyone any good does not need. It's just another attempt to point out Michael Sick state of health, which had no connection with his death. If Michael played, say, 15 concerts, and then collapsed to some health problems, would be legitimate speculation, if someone to sign such nepřemlouval too many concerts, it did not, Michael has not played even originally planned 10 concerts in just zemřelj preparations for the tour , not in connection with his medical condition and not logical at all to mention this thing in any context, since this case is not related to anything.
More videos:
Heal The World Rehearsal
http://www.youtube.com/watch?v=-2gHVFpdERE&NR=1 
Bad Rehearsal
http://www.youtube.com/watch?v=-2gHVFpdERE&NR=1 
Jam - Mexico 1993
http://www.youtube.com/watch?v=C_FBa8B69Uc 
Smooth Criminal - Mexico 1993
http://www.youtube.com/watch?v=jxIq8hS1-Ys 
Black or white - Mexico 1993
http://www.youtube.com/watch?v=uaf8-Hm7UOE 
Heal The World - Mexico 1993
http://www.youtube.com/watch?v=hM8kaRuX4sQ&feature=fvst 
The Way You Make Mee Feel - Dangerous Rehearsal
http://www.youtube.com/watch?v=7j65uMPeVD0 
The Way You Make Mee Feel - This Is It Rehearsal
http://www.youtube.com/watch?v=Oqh7ldeQLJk 
September 16 Unbreakable video. Unbreakable Michael is indeed a tornado, as it would probably knocked her greatest dance talent of all time - Michael?? We will never know ..
http://www.youtube.com/watch?v=QWVa3Mlx5dU 
http://www.youtube.com/watch?v=a5Jafg_xnhE 
September 7 From Michael's concert in Prague Today, 14 years. As we know, during his stay in Prague, Michael briefly met with Havel. The media, however, much information about the emergence of how it impacted their meeting, and what are some fun together, here is some information:
Vaclav Havel wondering - and asking a question many of the stars with whom he met over the years - a pop star if he realizes how much she, when the idol of so many people and how its cost impact. Many famous people have gained a reputation by developing charitable activities. From an interview with MJ but was disappointed.
What can I say, Havel has always been more rock-based, and his subconscious Michael probably never was any remarkable personalities, Michael's character is obviously very different from the character to be members of the Rolling Stones.
During the world tour of History, Michael met with a number of other statesmen, which impressed excellent, with Nelson Mandela worked on charitable projects, "What More Can I Give" and "Michael Jackson With Friends 1999" for the foundation of UNESCO, the Red Cros and Nelson Mandela Children's Fund.
Pages from old magazines Bravo type.
http://www.sendspace.com/file/uw406b 
Audio
http://www.sendspace.com/file/wnv8cr 
4.9.Thriller vs. Dangerous - sales potential.
At first glance, everything seems to be abundantly clear from all sides of us spewing information that suggests that the thriller in his pocket and the rest of Michael's career. The Wikipedia tells us that albaum Thriller sold 104 million copies and Dangerous 30th Hockey terminology might say that Thriller Dangerous inflicted debacle :-) 10:3 to these figures, but good to know some of the factors that are necessary to form an opinion whether he really Thriller more sales potential than Michael's last album promoted. For some numbers you need to look far into Historye, say, 1995. Shortly before the release of Michael Jackson History double CD with a lot of numbers appear, reflecting the sale of Michael's records. The numbers reflecting the sale of plates MJ million was roughly this: the eighth OTW Thriller 52, 1925 Bad, Dangerous 24th The question is how big the difference in potential sales, these numbers really mean.
While in 1995 have passed since the release of Thriller 13 years, Dangerous in the market only four years and had much less time to record a sale than a thriller. The strange thing is that while the 1999 album Dangerous marketability virtually halted, on the contrary, Thriller has sold better than in the 80 years later, during its heyday :-)
Another fact is that the sale of Dangerous suffered in 1993 a great disaster - Chandler affair, which, although quality control board could do nothing, but could not have any positive effect on the sale, Michael's popularity dropped to 0, the first time in the history of music was "misguided" kterám on until we could hear only in the policy.
Finally, you should know that while the album Thriller in the 00th years given by the record companies a massive publicity (see previous article), to better sales of the album Dangerous in the 00th years, done absolutely nothing.
It may therefore have the light of these facts really Dangerous greater sales potential than a thriller and it? The answer is no. Dangerous is an excellent board, but rather something for Michael's fans than the general public, unlike Thriller free music that nobody minds, but the controversial video clips and "Smash" pace. It is true that every fan, every fan who Dangerous by Michael added, not only to ensure better sales of the current board, but the marketability of fan magazines, posters, clothes, alarm clocks and watches with a fountain of all just where we find Michael and just as any his music ever released or published in previous years and the next. But all this has its own board of merchantability Dangerous nothing, the purchasing power of the general public will always be much stronger than Michael's fans.
On the other hand, it must be said that the 104 million carriers of Thriller, as claimed by official sources, is likely to sell and when to actually happen, due to its visibility from the record company (which is very effective zneviditelňuje Michael's 90th year of production) which cause the lie becomes the truth. Dangerous Thriller is really a worthy opponent, hockey terminology, one could say that with a bit of bad luck Dangerous (if one can call it so) in lost potential sales thriller 4-2, as some facts just can not be ignored.
2.9. New album - unreleased songs. As everyone surely knows, is due out at the end of Michael's new album, which will contain around 10 unreleased songs. But what you can expect from this board? What is the quality of the songs and what type of people will be addressed? Foster a new mania around Michael, or will contain only material for the general public? These are all questions that can be largely answered. Like all materials, which Sony recently issued, and this record is not likely to be made for the fans, but for the general public as the promotion of MJ fans not in the interest of Sony Music. CD, which has a capacity of 79 minutes, of course, could offer far more music than 10 songs, unreleased songs, because the clouds are, perhaps even more than Sony admitted, which is about 150 compositions. An interesting figure for the previous albums and MJ would be number 17 and not a double album with a 2x15 type History of unreleased songs would probably disappointed fans of Michael and maybe it caused us a similar mania of the original History of the 95th About this here but it is not. The unreleased songs are known, it is necessary to give something to the wolf has come, but Michael's career has not identified any significant recovery, even though Michael's since the last 9 years have passed boards. If you own the Sony 150 unreleased songs, and every 10 years, one issue for example, 15, will make it even for 100 years and today, most fans simply do not live unreleased tracks. In fact, but there will be more indicative of the different lists of unpublished works, which can be found on the Internet a lot, the words of Michael, who said many times that for every album, writing over 200 songs, of which Sony only gets a 2, and it ends with them . There are even versions of unreleased songs for the album Bad, which Michael also covered for the album Invincible. One of them is a Cheater to the Ultimate Collection could easily come out in Invincible version, instead of the 80 demos years. Even songs for 3T, where Michael once worked could be spent in the Michael-solo version. His nephews in the 90 years clearly said that the songs written for them, and sings solo and his voice sounds much better than theirs :-) Sony is also available song Angel, which was to be Michael's first single album for 1999, which finally refused to issue . None of us at the new board does not expect Michael. The board will include mostly songs from the Thriller and probably even a lot of songs from Off The Wall. Why not be the Dangerous when there is much more than songs from Thriller? Since Sony does not want to publish songs from the dangerous, even this period, any promotion, the reason is simple, while the Thriller album is made for the general public, which contains songs that somehow does not matter to anyone, regardless of whether he is 5 or 75 Dangerous is an album made especially for the younger generation, among whom Michael has the most fans ever and contains mostly fast material. After the plates Dangerous, History, Invincible now slowly neštěkne not a dog, because Sony's music from the fan still does not promote the album. Dangerous reissue for 2001, which should also include six unreleased songs, planned for this album, Michael refused. Unlike boards OTW, Thriller, Bad and Dangerous came as Jenin Ředice 2001 without a bonus song in the same version as in 1991. History Continues reissue came out at all. Both boards have followed the same sale as Bad and triple sales compared with the Off the Wall, yet they promote the 2001 shortage, unreleased songs from this period, no longer appear on the Internet. Rather, it appeared many vebů that although at first sight look as official, but Sony is pretty much supports the fact that either he would defend the interests of Sony's lavishly them! Policy. But back to the topic, in 2005 Sony released the Ultimate Collection, where he appeared in the thriller four unreleased songs, while in the Dangerous and History, or a single (not counting the well-known, but unpublished Monkey Business, which is also tuctovka). In some similar fashion we can expect a new album. It will aim to also pointed out that Michael was a star of the 80s, not to support MJ mania and divert attention from the Invincible, sabotage, for which there are unreleased songs, more than any other album, Michael. Given the current "policy" Sony can not be ruled out that the songs of period thriller is quietly working to sound better than the materials from other periods as the unreleased songs that we heard so far, dominated by the dangerous, even though it has unreleased songs based less on the Internet. Songs like Carousell, Got the Hots, Scared of the Moon is next to the song Serious effect, If you do not love me, For All Time, more like a demo.
August 27 About three months ago appeared on the YouTube channel zremixovaným Invincible, some remixes, such as "Heartbreaker greatly succeeded, others, such as Speechless Unbreakable or less. We can only guess how it probably sounded if they were released vocal version, especially Speechless, without even an instrumental part of the zremixovatelná, and so it is perhaps the only, if not counterproductive to the promotion of the album Invincible, which existed
http://www.youtube.com/user/tehmoosMMRA # p/c/F700910C8F1DB088/1/Esx56i8GYNY
August 19 Restored section Midi Songs http://www.michaeljackson.estranky.cz/clanky/midi-songs/midi-songs 
August 6 The new section, "Things of the Underground" and curiosities MJweb.cz.
July 25 Interview with MTV, 11 years old, yet very familiar. It is the only footage of Michael in a sort of "TV Guide image" by Michael opted for a brief period from August to December 1999.
 http://www.youtube.com/watchv=g7rZDvlIPJE&feature=player_embedded
 ttp://www.youtube.com/watchv=T3eCsuDuW00&feature=player_embedded
July 22 Upon request, the Sony site MF2 canceled again. All videos are aimed against Sony was deleted from youtube. The Internet is already commonly find, one of which is available for download at this link sendspace. http://www.sendspace.com/file/q6rodn 
Video can also be played on the YouTube channel, in some countries have been blocked in this country to play it. Eventually there will be another two or three videos from MF2. http://www.youtube.com/user/IfYouDontLoveMe1958 
July 17 MJ links section reconstruction was completed.
http://www.michaeljackson.estranky.cz/clanky/mj-links-rekonstrukce/mj-links-rekonstrukce 
July 2 In a recent interview with La Toya again identified Sony as Michael's killers. Literally saying that he was murdered for its 50% stake in ATV catalog. This of course is nothing new, but it is good that once again attempted within their power to explain to the public that no catalog exists a similar, namely that in general the public has no clue.
http://www.allvoices.com/contributed-news/6152729-latoya-jacksonmichael-was-murdered-for-his-catalogue 
We also continue to investigate the murder, although the result was known before the start of the process. It would be naive to believe that Sony will arrange things so clumsily that the truth ever revealed, therefore, is still something at the end of which the public learns that Michael was accidentally killed by Dr. Murray and the Case Sony rests, of course every time you accuse someone of Michael's death. The entire process is for Sony literally a godsend. The only possible "victory" Michael's fans and family might have been if the need some other process, Sony has been identified as a company that damaged Michael is responsible for his death and is contrary to morality that owned the rights to his music, which would get Michael's children. It is possible that if Michael's music to be issued by Motown Records, would sell better than if she will make a mega corporation Sony, because for some fans may be a problem to buy music from Michael's killers.
July 1 A collection of rare CD from the 90 years.
 http://www.sendspace.com/file/bci2jt 
June 25 Tribute Video
 http://www.youtube.com/watch?v=vq-gly44YwA&feature=player_embedded
June 25 Expression of Catherine to today's sad anniversary of Michael's death. http://jacksonsecretvault.com/ 
June 21 New and well-made video from MF2. Thomas Messereau it tells about how hard Michael carried the child process in 2005. With plenty of photos that we in newspapers and magazines never had the opportunity to see photos of fans with banners that highlight the most important fact in the entire case that Sony had arranged this process. The view that the public has little idea of the media in this respect does not cost (as always) on Michael's part, and always publish only information that fits the Sony. The official forums are notoriously difficult to spread negative information about Sony. Very often, that when someone writes a review on Sony, its contribution is transferred to podfora kind where nobody goes, or completely removed. Na mjjcommunity symbolize podforem as "Conspiracy Theories". Notice one thing, television and all other media as soon as heard the phrase "conspiracy theory" is always a completely absurd accusation. Podforum So with that name inspires a sense that what people write in it are unlikely, even absurd information, so the price there is not anything to write to him as well because no one ever goes. And so on for all the official sites MJ, which Sony co-operate more or less, otherwise the activity would not be practically possible. Very good news in this regard are not Czech sites, and how mjjsource michaeljacksononline any information from the discussion should not be removed, there are no sections called "conspiracy theory" where everyone can support by Sony that have anything to write. However mjjonline was removed from the "ShoutBoard" on michaeljacksonweb remained, but the change was removed the ability to comment on posts on the main page. But back to the video, which gradually blends from 2005 to present, it best describes the phrase at the end of the video - Sony, We Know What You did Last Summer.
 http://www.sendspace.com/file/q6rodn 
http://www.youtube.com/user/MUZIKfactory2 
 16.6.
For all time - my tribute video
http://www.youtube.com/watch?v=zQFVBuHLrbE&feature=player_embedded
June 4 Michael Jackson Legend: This book, published relatively recently has a lot of interesting material, as a VIP tour tickets Victory, Bad, Dangerous, History, Michael will continue, the court cited the Santa Barbara, etc. It can be purchased as here.
http://www.beletrie.eu/knihy/legenda-michael-jackson.html
As a source of information but the book is only suitable for the public. Like all other books about Michael, which has recently been brought, and this includes a lot of misleading information and nepřesnýcc and unfortunately serves as a promotion by Sony. For example, here is analyzed in Michael's speech in 2002 that at the press conference said that the music industry ruled by racism. Even in the book also acknowledges that complaints of artists at the record companies are largely justified. The phrase itself, of course, nothing at all. Something like we read in all other books which were published on Michael after his death. Statement of racism never believe anyone, fans, general public and possibly even Michael himself. This problášení Michael injured and after the demonstrations against Sony helped create in the public believing that Michael is paranoid, untrustworthy, and his previous actions against Sony and stepped down to respect. It can be assumed that these were somehow forced to Buzz. Michael was very knowledgeable about the music industry because it has worked since he was 5 years old. He must clear the statement on racism in the recording industry is just embarrassing farce that it can only harm if they do not have concrete evidence to prove their claims, such as audio or video recordings, etc. that would be convicted of Racism specific people. With this evidence, however, go directly to the court and not on the press conference. Michael and his experience must have been clear that even if the racism in the music industry up to heaven, no sense of uncompromising attention without evidence of himself or compromises. It is interesting that in all publications that were published after his death, almost no mention demonstrations against Sony and they certainly will not find Michael with banners "Sony sucks". On the contrary, this press conference, Michael znedůvěryhodnila is everywhere and not in the book Legend of the specific evidence that would convict someone of racism, of course nedočteme. It is no wonder that in fact all media from 2002 until now, only informed about this conference and not a demonstration against Sony, kenference she was in fact in the interest of the corporation. Information made available to the media just come from Sony. Michael was also at this conference, very bored, depressed speaking voice and his enthusiasm can not be compared with the one that had demonstrations against Sony, where he climbed on the bus and to arouse crowds chanting the slogan "Sony sucks". It is likely that this press conference is to further promote Sony's well-developed, to which Michael was forced. It is not possible here to detail, breaking down all cases in which the book MJ legend like her books and works as a subtle promotion of Sony. The general public, of course you can not perceive, and so the book is intended just that.
June 1 Another Day. Various sources on the Internet consider an extended version of "3:10" for a full, complete, but no, this is only a part of the song zmixovanou footage at 1:29. There is speculation that Another Day comes on a new album later this year.
http://www.ulozto.cz/4988355/michael-jackson-another-day.rar 
May 22 New, cool and quite unofficial calendar for 2011 in Prague Bontonland. It is possible to get the Pores eBay.
http://cgi.ebay.co.uk/MICHAEL-JACKSON-2011-CALENDAR-NEW-Red-Star-/190394857055 
 May 16 100 mostly HQ photos MJ
http://www.ulozto.cz/4844900/michael-jackson-100-nejlepsich-fotek.rar
May 16 The unofficial calendar for 2011. Last year came the unofficial calendar which has been much more interesting for the fans than the drivers brake from Sony, which contains mostly pictures of the 80 years. This, however, they accurately reproduces the official trash its only advantage is that it is unofficial. Calendar, which should include a complete pictures of L'uomo Vogue, 08, Ebony, 08, or TV Guide 99, or other interesting material that is at all. Calendar is available for purchase here as
http://www.bontonland.cz/film/KALENDARE/KALENDAR-Michael-Jackson-2011-neoficialni-629483.html 
May 10 The album Dangerous in acapella version + bonus acapella Leave Me Alone! http://www.ulozto.cz/4786673/michael-jackson-dangerous-acapella.rar 
May 2 Michael died attorney Peter Lopez. According to official sources, most probably committed suicide. In fact, although the claim is highly unlikely. About pravděpodobnbější is something that is going to need to disclose information that could help in investigating Michael's death, a man in his position, and certainly could have easily become uncomfortable.
April 29 Some video from two MUZIKfactory wish Sony was deleted from Youtube, but that did not challenge any rules Youtube. Fan reaction to this was that he created his own blog against Sony. All who are interested in a little Michael would have very carefully read all of the following links, information is valuable and it is possible that for some time not on the Internet at all.
http://mjfansboycottsony.weebly.com/index.html 
April 24 Interesting site by an anonymous user MUZIKfactory 2, focused on the biggest weed in the life of Michael (Sony, AEG, JOHN Branco, FRANK work, Conrad Murray and others ...). Some of the material in these videos, said the court will serve as evidence against Frank such dilemmas. Hard to tell if there is no option to convict a mob of this caliber, one thing is certain, we are working on it.
http://www.youtube.com/user/MUZIKfactory2 
http://www.youtube.com/watch?v=8IH7S3VhlTU 
April 12 On YouTube after Michael's death came the video of the events are held against Sony. It is good to watch until the end, they contain a lot of things to ponder, such as might have responded to Michael on what is happening regarding the copyright on "This Is IT projects and other material received by the Sony people in discussions with these videos usually admit that Sony is behind his death, the author admitted the same video. Money song sits down to a dispute between Michael and Sony's perhaps best of all. Perhaps with one thing in these videos can not be accepted, namely consideration of the song This Is It, which came out as a single and not published. She was released only a best of compilation This is it. With this project, but not much success record. Many music critics, agreed that the song without too many problems could be the biggest selling single to surmount Candle In The Wind Elton John. Why so common as the song This is it? Simply because if it was released as a charity single and the proceeds would be donated to her children Michael, millions of people around the world would be like for Michael to secure his family, which is currently overwhelmed with debt. Many people would certainly appreciate what Michael's life has suffered for the benefit of the music world and why Sony has not issued a single. Candle in the Wind was also a common song, recorded to the accompaniment of piano and also composed and was officially released as a tribute to Merlin Monroe already in the 70s years. But for people who Princess Diana mean something did not stop to buy single and made it the world's best-selling single. Michael was a major figure like Princess Diana and there's no doubt that if the whole thing rationally to capture, single This is a chance it could become the biggest selling single was. As mentioned in the video, it is also likely that Sony has the better material for this purpose, but simply wants to give something like that. On the Internet, also recently appeared false information about it This is it due to the project are Michael debts repaid. Not so. This information does not say virtually nothing, is a question of what debt? Je possible on the one hand, to be at Sony Music, has to repay certain debts, but if the other side was Michael's family sued the fact that Michael has not played or arranged concerts and other means Michael's death was the creation of debt, the result is always a big minus. What is certain is that Michael has not issued the new and the opportunity to earn money after his death, slash. If the situation was in Michael's family is excellent, probably would not ask Catherine for a contribution to protecting children and other forms of financial aid. Sony probably needed to divert attention from the presumption that it could stand for Michael's death in order to gain a better position in the maneuver the ATV catalog and began to spread these rumors. Improved maneuvering position, but Michael's death clearly won because Michael made it clear that it intends to leave with half of its music catalog, and the success of This Is It, and repayment of debt would prevent him from doing nothing to prevent. Since the current manager ATV catalog, unlike Michael would expect, the maximum co-operation with Sony. Moreover, the donation would be U.S. $ 12.5 million who worked where.
http://www.youtube.com/watch?v=2F3t2Gc0Qpo&feature=player_embedded#! 
April 5 Live in Brunei for the download. The Internet is the concert for download for a long time. Not from any source, but can be easily downloaded. Information about the concert + some of the lines are needed on this page
http://www.darelease.com/music/89488-michael-jackson-royal-concert-1996-hq-dvd-pal.html 
Easier to download it via torrent, which is available for download here http://thepiratebay.org/torrent/5299300/Michael_Jackson_-_Live_in_Brunei_-_July_1996 
The concert is a high quality of the size of 7.12 gigabytes It is therefore not possible to burn me a DVD with no problem but it can burn to 2 DVDs. The concert is interesting because it is a sort of combination of History and Dangerous World Tour World Tour. The quality of his pocket for all fans of dull and overpriced DVDs are available at stores such as the Live in Buchurest, Yokohama and Helsinki.
March 12 Hats
http://www.ulozto.cz/4787261/michael-jackson-live-in-prague.rar 
http://www.sendspace.com/file/ab7yvi 
February 8 Murray charged with involuntary manslaughter. However, many people do not believe that this killing was unintentional, even though the general public about the possibility of assassination has virtually no information. On this page you can vote themselves http://www.tmz.com/2010/02/09/joe-jackson-dr-conrad-murray-larry-king-video/ 
February 8 - This is it live audio. Sony released the album This Is It a boring version of the songs live without. Something zajmavého audio can be downloaded here.
 http://thepiratebay.org/torrent/5229348/Michael_Jackson_s_This_Is_It_Live_Audio